It's about time
It has been a few months since my last blog post, much has happened during my brief spell away from blogging. Firstly I recently moved to a new role of QA Tech Lead which has kept me super busy on many fronts (I will leave that for another blog post :-)). Secondly I also just got back from my 3rd international presentation in as many months. It has been an eventful few months which has seen me travel from South Africa to Germany, back home then back to Europe in a short space of time. The 3 presentations which included the ever awesome Agile Testing Days 2017 , then followed by the amazing, technical and unique online automation conference Automation Guild and finally the super 'feel good' and insightful European Testing Conference.
Another cool thing that happened was that I was named by the influential Automation expert Joe Colantonio on the list of top 43 automation and performance testing engineers to follow in 2018. Something that made me real proud to be part of, as I was listed amongst some of the most admired and talented people within the test automation industry.
These conferences and my experiences as a QA Tech Lead thus far has really helped me grow and learn during this period.
Instead of sharing in-depth details of both conferences that I have attended, I have decided to change it up a little and share trends and my observations of the current and future testing world. If you are keen to hear more info on European testing Conference check out my co-presenter Lisi Hocke's awesome summary on experiences (including our presentation) at the conference which was held in Amsterdam- European Testing Conference 2018 – Coming Home.
So in this post I would like to share my observations of what the trending topics in the Software testing world are, which you can use to either research on further or use as a gauge on whether you are on the right path with regards to the current state of testing affairs.
Observation 1
Micro-services are in full force
Yes, micro-services are hot property. At the European testing conference (I will refer to it as EuroTestConf going forward in this post) I most certainly felt the micro-service buzz. One of the keynote talks at EuroTestConf by Emily Bache focussed on exactly this : check out her slides here also most of the hallway chats that I was engaged in somehow went back to this trending topic. I also facilitated a cool Lean Coffee session at EuroTestConf where the topic came out consistently with conversations going deep into lean coffee time. If you have not been exposed to the micro-services world I suggest you get started and learn some of the key areas around it and also important aspects to keep in mind when testing micro-services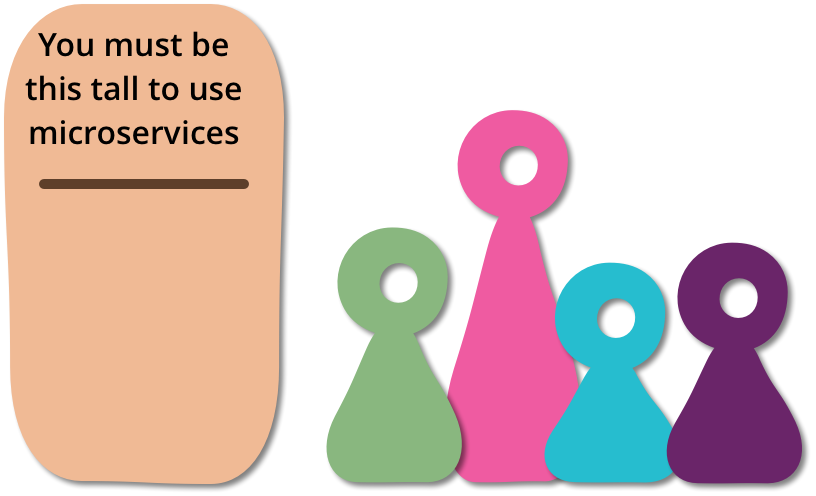 *image from https://martinfowler.com/bliki/MicroservicePrerequisites.html
Observation 2
AI is not only the future, its the present and the future
The opening talk at Automation Guild 2018 was proof that its here, Gil Tayar's impressive presentation on "Not only Cars: AI, please test my apps" gave great insights into this area. Since then all I hear is AI and Machine Learning. My twitter timeline is abuzz with the concept, which is now changing focus to turning the spotlight on how it can be used effectively in the testing world. Mabl is now one of the first AI players in the testing space with testim.io also joining in. Are you already playing in this AI space? If not it would definitely not harm to add it to your list of courses to tackle over the short term, I have already signed up for a few courses to prepare myself for this 3rd wave of Test Automation which was phrased at https://joecolantonio.com/testtalks/178-third-wave-test-automation-joe-colantonio/
Observation 3
Mind-maps are making significant impact in testers lives
Across both recent conferences Mind-maps were attracting loads of attention. I must say I was certainly surprised at how massive mind-maps have become. Having initially been introduced to the mind-map world by Lisi Hocke (check out this cool article by infoQ highlighting our learning experience together-where I mention mind-maps and the influence it has had at my workplace: https://www.infoq.com/news/2018/02/pairing-learning ). During my 30 minute 'Live' Q&A session at Automation Guild, I was asked quite a few questions on mind maps, mostly around how I use them and what tools I use to plot them on. Most of those conversations went well beyond that Q&A session with many email and tweet follow-ups from some conference attendees. Gojko Adzic keynote at EuroTestConf on 'Painless Visual Testing' also went back to many mind map references. Later at that conference there was a great interactive 'Open Session' facilitated by Gojko and Richard Bradshaw focussing on mind maps and sharing/finding out its usages in different contexts and environments. If you have not yet used mind-maps to aid your testing efforts then another tip would be to give it a try and see how this changes the game for you and your team.
Observation 4
Recruiting: Finding testers is not easy (not just locally but internationally too, the struggle is real)
Another trend which I have noticed in local and international markets is the painful process of finding the new age "technical tester",that tester that breaks the mould from either your traditional manual or automated tester. The perfect all rounder, who is comfortable doing just about anything from test cases to coding, from testing API's to logging defects, from docker to automation and pretty much everything in-between. This is the look of the new-age tester no wonder it is such a struggle.
I was so surprised at the recent conversations I have had internationally where many companies are faced with the same recruiting 'technical tester' problem that we have here in South Africa. At hallway chats and lean coffee sessions this topic was well worth noting.
Well I will admit, this tester is needed nowadays, the reason in my view as to why this person is a scarce commodity at present is because testing is in a 'major rapid transition' phase at present- the switch has been flicked quickly and only a select few has been the 'Flash' super hero in this scene. If you are not 'Flash' another tip would be to zoom in and gain that super power as fast as possible. The quicker we realise that the testing game has changed, the quicker this resource issue will be on its way to being resolved.
Other notable observations
–Javascript and Python for testers: Learn these 2 languages, that is certainly the message I got. The former which I have learnt quite a-lot recently and the latter which I still need to equip myself with. These languages alternate in usage and preference across the continents with one proving slightly stronger in one continent than the other & vice versa. But they are both most definitely needed in your armoury as the new age 'tester'. The world of npm needs Javascript and AI, machine learning stuff has python at the heart of it.
–CI/CD and pipelines – this is another aspect where the modern tester should be familiar with. Using Pipelines to Bring Product to Production was a great workshop run by Abby Bangser and Lisa Crispin at EuroTestConf where they highlighted the model for a good practical pipeline and what would be the most effective in today's fast paced Software delivery world. Expose yourself to this concept and it will do more good than harm to your Testing world.
Conclusion
The testing world as we know it is changing dramatically right in front of us, its scary yet exciting. The best way to make it more exciting than scary is to learn, learn and learn more. Social media and pairing up with others is key to keep in-touch and at pace, google is also your friend and should be used extensively. Lets help each other be ahead of the game in this shiny new evolved testing world. Welcome and Power to you!